This documentation is for CS1.x versions of the Cocoon Data SafeShare for Web application.
Please refer to our important notice for information that relates to this documentation.
Overview
SafeShare for Web is a web application (of the Cocoon Data Platform) which allows you to securely store, access and share any data anywhere.
Using SafeShare, you can securely create, upload, store, share and download files easily through a web browser on your computer.
Since SafeShare is a web application, it can be accessed conveniently from:
your desktop/laptop computer, tablet, smartphone or any other device with a compatible web browser * and
any location with Internet access or network access to the Cocoon Data Platform.
All uploaded and created files are encrypted before they reach storage managed by the Cocoon Data Platform.
These features allow you (as the owner of files secured through SafeShare applications) to share your own content securely with people you deal with regularly (such as colleagues within your organisation) as well as other people who may not yet be members of your organisation or registered on the Cocoon Data Platform (for example, customers and partners).
* While SafeShare for Web does not support the upload and storage of files when used on tablet, phone and other devices with compatible web browsers, native SafeShare applications are available for many of these devices which do provide these capabilities, along with a complete SafeShare application experience.
Functional overview of the main SafeShare page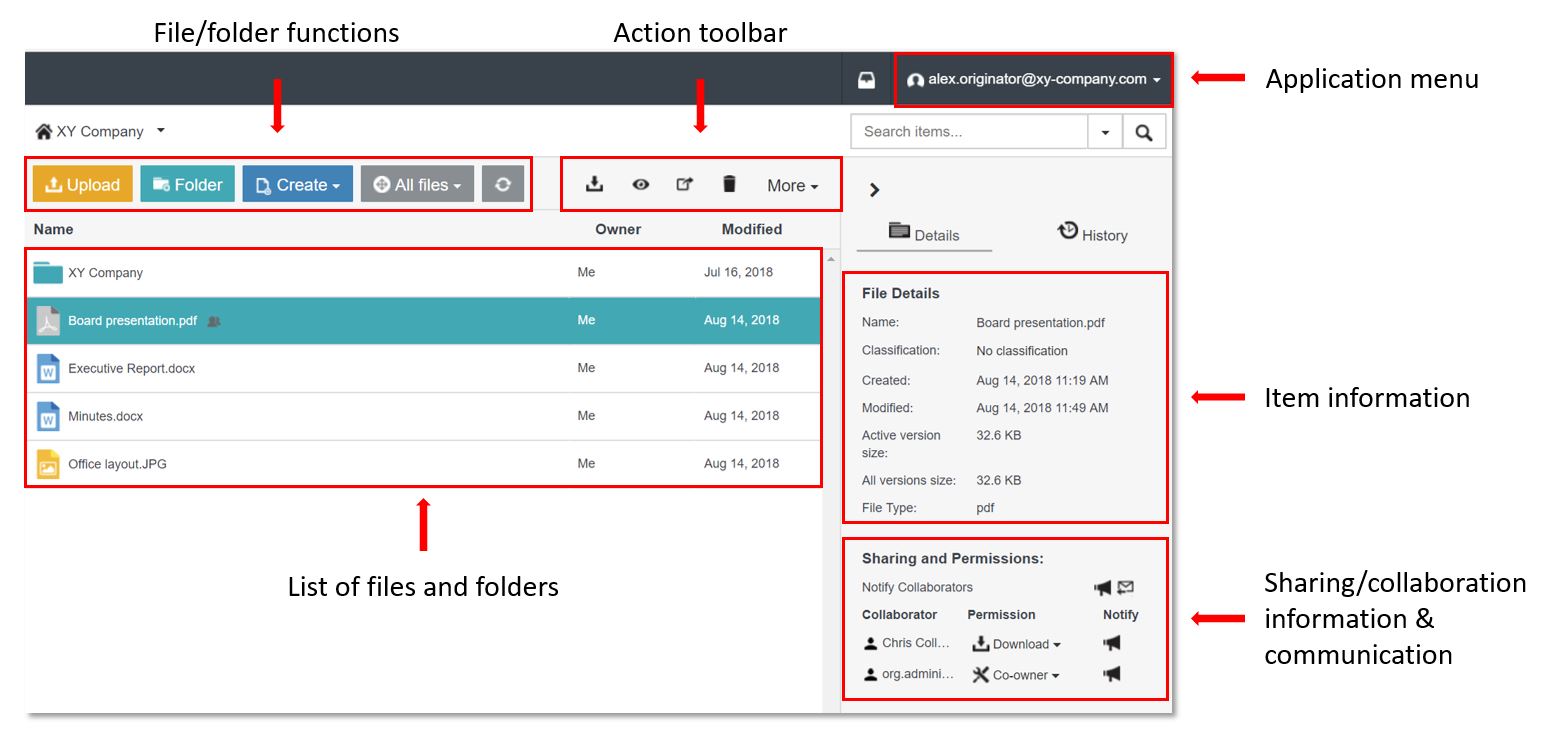 Organisations
A user of SafeShare applications (known as a Cocoon Data user) uploads, stores, creates documents, shares, accesses and manages content (i.e. files and folders) through a self-contained unit called an organisation.
An organisation is self-contained meaning that the creation, sharing and manipulation of content is handled solely within the scope of an organisation itself. (This Cocoon Data Platform feature is also known as multitenancy, whereby each organisation represents an individual 'tenant'.)
Be aware, however, that a Cocoon Data user can:
be a member of one or more organisations and
share their content with users in other organisations.
This means that any Cocoon Data user's ownership of content (or permissions to access this content) as well as the roles they have been granted to access SafeShare features is specific to each organisation.